Over the past 24 years, PKC's team of seasoned professionals has completed a wide variety of strategic plans, renovations and other exciting projects in various market segments including higher education, healthcare, business and industry and the military.
With a focus on colleges and universities, we've designed innovative dining programs and/or designed modern and contemporary residential and retail dining facilities on more than 400 college and university campuses in all 50 states, the provinces of Canada and the U.S. Virgin Islands.
Our commitment and discipline to immersing our senior principals and entire team in our clients' on- and off-campus communities in order to fully learn and comprehend what is culturally, philosophically and geographically unique about their students and campuses produces bold, innovative and ground-breaking solutions for our clients.
Our experienced team has completed a wide variety of strategic planning projects, comprehensive campus-wide master plans, design projects and operator selection services for colleges and universities across North America.
Is your school on our list?
CLICK TO VIEW PKC'S HIGHER EDUCATION EXPERIENCE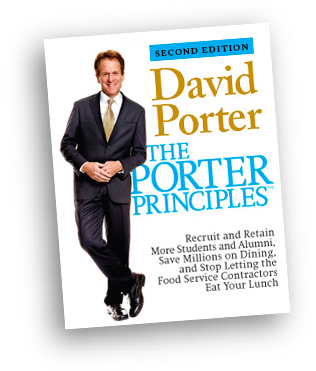 THE PORTER PRINCIPLES
In the second edition of The Porter Principles, PKC CEO & President David Porter created a thought revolution. David provides additional intriguing insights and keen observations regarding the importance of unlocking the social architecture on campuses, the role it plays in guiding students and parents in the college search and the impact a socially-rich campus life can have on creating a stronger future for the younger generation.
The following are three examples of our successful projects.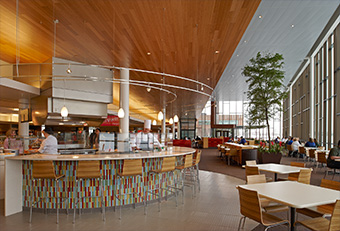 MICROSOFT – Fargo
PKC conducted preliminary planning services regarding significant changes to the Microsoft's Fargo North Dakota campus including an amenities building that houses the campus's new foodservice venue. Our team facilitated in a two-day planning charrette and conducted a web-based survey to assess employees' current dining habits and preferences. We also provided facility space  allocations, program definitions and a list of pros and cons for two possible scenarios; one featuring a single central dining location and another featuring multiple locations. With our planning work complete, our Design Studio designed the campus's new café which features an upscale a la carte marketplace café offering a wide variety of food including deli sandwiches, salads, entrées, pizza, desserts and more.
CLICK TO VIEW PROJECT >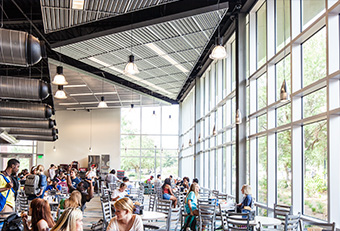 GEORGIA SOUTHERN UNIVERSITY
PKC created a five year campus-wide dining services master plan in anticipation of the University's plans to renovate two of its largest dining venues, Landrum Dining Hall and Lakeside Café, ahead of planned enrollment growth. Our team conducted qualitative and quantitative market research and used the information gathered to create a customer-friendly, value-added campus-wide dining program. In addition, our team completed comprehensive financial and demand models. Using this information and their expertise, the PKC Design Studio designed state-of-the-art dining venues the compliment each other and fully support student life at GSU.
CLICK TO VIEW PROJECT >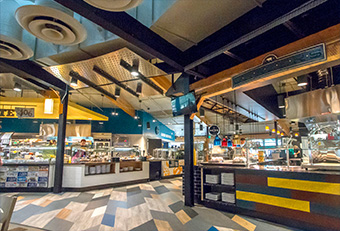 MONTANA STATE UNIVERSITY
PKC created a five-year campus-wide dining services master plan for the University in order to identify the dining program's strengths, challenges, and opportunities for the future, especially with the planned growth of both residential and commuter students. Our team completed student focus groups and stakeholder interviews and analyzed the data gathered through a customized survey. We used all of the information gathered combined with our industry experience to create a student-focused, value-added dining program to support the goals and missions of the University. The PKC Design Studio also completely redesigned Miller Dining Hall into a contemporary and inviting Anytime Dining/Student Engagement Commons.
CLICK TO VIEW PROJECT >
PKC offers a wide variety of planning, operator selection and design services.

Meal Plan Development
Meal plans are the backbone in any campus dining program and they can be a key influencing factor when students decide whether or not to live in on-campus housing and/or to participate in the campus dining program. PKC can help your campus develop flexible, customer-friendly and modern (versus old-school) meal plan programs that eliminate dissatisfaction, grow participation and add significant value to your campus dining program.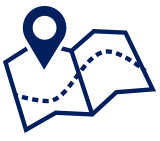 Strategic Planning
Master planning is an analytical and creative activity that results in a coordinated set of decisions about actions to be taken to accomplish stated goals. Research has shown that the master planning process can yield meaningful benefits to higher education dining organizations that take the time to develop these strategic road maps. Our firm has created comprehensive master plans for dining and auxiliary service departments on college campuses, hospitals and medical centers, business and industry organizations and more.

Operator Selection Services
Over the years, we have found that many campus administrators consistently undervalue their foodservice contracts and enter into agreements that leave significant program opportunities and capital investment dollars on the table. PKC will work as your independent agent to facilitate a proven competitive bid process and negotiate on your behalf in order to secure a new foodservice contract based on the optimum, next generation dining program. Through our proven process, we've significantly improved and expanded the student dining experience while profoundly increasing the financial return for our clients.

Design Services
We can provide clients, architects and other planning partners with creative and contemporary, yet functional Server, dining room and kitchen designs that appeal to a wide variety of customers. Our design team is led by PKC Senior Vice President Albin Khouw who has more than 35 years of foodservice design experience. PKC utilizes the REVIT Building Design Suite that combines Building Information Modeling (BIM) and CAD tools to help us design, visualize, and simulate our clients' projects more efficiently.